Bison ANNOUNCEMENTS
6 days ago
Home of the Fightin' Bison

For information on all South High activities please go to the following web site:
---
Attention SOPHOMORES and FRESHMEN:
Beginning on Monday, April 10th and continuing during regular class hours until May 3rd, the ACT Aspire test will be given to ALL 10th and 9th grade students.
These tests measure academic strengths and weaknesses, determine college acceptance, Hathaway scholarship levels and readiness for future careers or education. It is vital that students attend these test sessions and are prompt.
Late students cannot be allowed into testing rooms once the test scripts have begun and students who miss their regular test session time will have to miss other class time to make up the exam. We would appreciate appointments and other circumstances that would require students to miss school be scheduled outside this window.
Attention JUNIORS:
On Wednesday, April 19th, ALL juniors are required by state statute to take the ACT test. The ACT is used by colleges, universities and other trade and training programs to determine placements and scholarships, in addition to measuring academic competence.
The tests begin PROMPTLY at 7:45 am on the 19th. ALL STUDENTS are required to show a valid picture I.D. to enter the testing rooms. Your school ID, or driver's license will work. You are responsible for being familiar with ACT's guidelines for acceptable ID. Go to www.actstudent.org/faq/id.html or see the counselors or Mrs. Emerson in the main office for ID.
If you arrive late, you will be assigned to an ISS room for the nearly 4.5 hours of testing and will be required to re-test on a different day. BE ON TIME, BISON!
PARENTS: Please be aware that no announcements, messages or passes are allowed to be delivered during testing, nor are students allowed to leave unless they violate security procedures or do any of the prohibited behaviors during the test. Students will be testing from 7:45am until approximately 12:30pm that day.
IMPORTANT REMINDER – the ACT doesn't allow ANY electronics, books, purses, backpacks, food or drink in the testing rooms. Please leave these items home that day or in your locker until the tests are over. Students who bring those items to the testing center will be removed from testing, their tests will be voided and they may be suspended for the duration of testing.
Seniors are not required to attend school that day. Freshmen and Sophomores will have a half-day and are released at 11:15. They will be involved in other activities since regular classes cannot be held during the ACT.
FINALLY - Make sure to wear comfortable clothes, eat a good breakfast and get plenty of rest the night before testing. If you or your parents have any questions about the tests, please contact Mr. Backman or Mrs. Simpson.
The Musical
WHO?
South High School Theatre and Music Departments.
WHEN?
APRIL 20th-22nd 7:00pm
WHERE?
South High School Auditorium
WHAT'S THE CATCH?
$7 for adults, $5 for students, seniors, and military.
BUY YOUR TICKETS AT THE DOOR!
Registration 2017-18

Counselors and students will begin registration on Jan. 25 and conclude Feb. 3, 2017

---
Parent Advisory for March 13th has been canceled.

Traci Friess Scholarship Fund
Make checks out to: Pershing LLC

Memo Line: FBO Traci Friess Scholarship Fund
Mail to:

Northwestern Mutual Investment Services

707 17th St. #3700
Denver, CO 80202

Can't think of a better way of honoring Traci then enabling her legacy to live on through the many students' lives she has touched. Thank you for all your help and prayers.

January 9th Parent Advisory is canceled. We will see you back in February.

If you have not placed your graduation order yet-the "fall" discount will end December 21st. Regular retail will begin after this date. Online order at www.uniquerecognition.com or mail order to Unique Recognition/Herff Jones 333 E 4th St; Ste. 102 Loveland, CO 80537
Payment in full is only required on orders under $85, if over this amount need a payment of $85. What's left will not be due until February 1, 2017. Any questions please email at info@uniquerecognition.com
Winter Break Tutoring
will be at South High School

December 29th and 30th

from 9am-12
Photos with Santa

SHS Photography Club Presents:
Community Photos with Santa
Saturday, December 17
South High Commons 9am-11am
**Please bring the digital device you would like your photo taken with**
You will be emailed a copy of your photo, as well as a print release.
Donations are not required but greatly appreciated!

Parent advisory - Monday, December 12 @ 6:00PM

Come here about all the great things happening at South
Registration and marketing the options available to our students
Parent Newsletter

Trick or Treat Street
October 28 4pm - 6pm
All are welcome to come trick or treat in the halls of South High!
The Dandelion presented by South Students and Ashley hope carlisle
"When you look at a field of dandelions you can either see a hundred weeds or a hundred wishes." - unknown
SCHOOL RESOURCES - Click each to download
PRINCIPAL'S PAGE
5 months ago
What makes south special?

The South High school community is strong because we are committed to challenging and supporting each student in their educational journey. We offer a comprehensive course of study including a broad array of Advanced Placement (AP) and Concurrent Enrollment classes, diverse elective programs including technology and the arts, and a state-of-the art school facility.
ELO (Extended Learning Opportunity)

Built into our class schedule, ELO is a time when students can meet with their teachers to get extra help on classwork or homework.
Concurrent Enrollment courses

In cooperation with Laramie County Community College (LCCC) and Sheridan College, south High School offers courses that allow for concurrent enrollment college credit. Students who successfully complete concurrent enrollment courses earn high school credit and college credit while attending South High School. Students can also take approved dual credit courses at no charge at LCCC that will be recorded on both their high school transcript and college transcript.
Advanced placement (ap)

At South High School we understand the importance of AP classes to prepare students for college and career readiness. We offer a rigorous course of study including many different AP classes: Studio Art 3-D, 2-D and Drawing, Spanish, English Literature & Composition, English Language, Statistics, Calculus AB & BC, Biology, Physics, Environmental Science, US History, Government & Politics, World Geography, Human Geography, Macroeconomics, World History, Psychology, and Music Theory. Why do AP? Extensive Recognition AP is recognized by approx. 3,400 American colleges and universities, which grant credit, advanced placement, or both for AP courses and exam grades. Colleges and universities understand the value of AP for preparing students to succeed in rigorous university courses. Access and Equity AP promotes open access to students who may excel in only one or two academic disciplines. The AP Program is designed to give all students an opportunity to challenge themselves with a rigorous academic experience.
Attendance Offices
about 1 month ago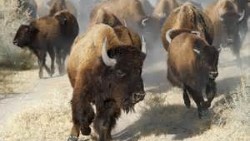 Social Media

Bison Athletics

Bison Activities

Bison Gear

Bison Online Newspaper
BISON Gear
2 months ago
Where to buy:
Visit South High School or call 307.771.2410