Bison ANNOUNCEMENTS
8 days ago
Home of the Fightin' Bison

For information on all South High activities please go to the following web site:
Congrats State Co-Ed Cheer Champs!!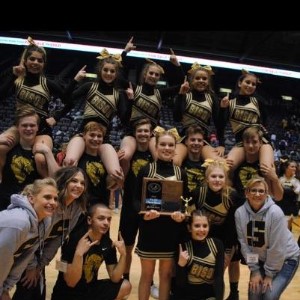 Congrats All Girl State Cheer Champs!!
No School-Spring Break
April 2nd-6th
South's Bison Preschool classes will begin April 9th and thereafter on 11, 16, 18, 23, 25, 30, May 2, 7, 9, 14, and 16th.
Also April 10th and thereafter on 12, 17, 19, 24, 26, and May 1, 3, 8, 10, 15 and 17th.
This is a first come/ first serve basis. Application deadline is March 16th. Please click on the Bison Preschool Application at top of the page for additional information and forms. Turn in to South High School in main office as soon as possible.

We are using the SchoolWay App to keep you involved in what is going on at our school. SchoolWay is available FREE for Apple or Android devices in the app stores. Search for SchoolWay and download, then follow our school. More information may be found at www.myschoolway.com/LCSD1.
Traci Friess Scholarship Fund
Please make checks payable to: Pershing LLC

Memo line: FBO Traci Friess Scholarship Fund
Mail to:

Northwestern Mutual Investment Services

707 17th St. #3700
Denver, CO 80202

Can't think of a better way of honoring Traci then enabling her legacy to live on through the many students' lives she has touched. Thank you for all your help and prayers.

Parent advisory - Monday, March 12th @ 6:00PM

Come here about all the great things happening at South